To further protect staff, patients, and community members, Littauer is changing our visitation guidelines – March 18, 2020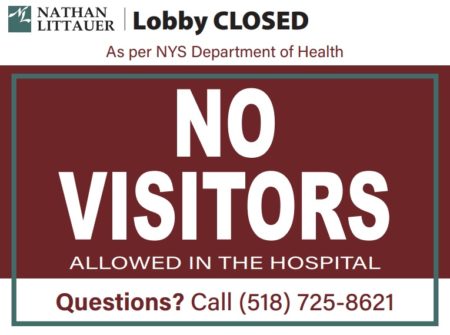 The New York State Department of Health (NYSDOH) is issuing the following guidance regarding visitors to hospitals and other precautions and procedures hospitals must take to protect and maintain the health and safety of their patients and staff during the ongoing novel coronavirus (COVID-19) outbreak.

NYSDOH issues guidelines effective immediately:

Hospital visitation is suspended.
Nathan Littauer Hospital & Nursing Home must not accept visitors at this time.
Compassionate exemptions are allowed; for family members or legal representatives of patients in imminent end-of-life situations.
Speak to your nurse. 
Facilitated Enrollment – NYS of Health Marketplace will NOT be scheduling face to face interviews nor will they be accepting any walk-ins. Enrollments are being done by phone only. Clients, patients and members of the community can contact our office at 518-775-4092 for enrollment assistance.

For Labor and delivery, the Department considers one support person essential to patient care throughout labor, delivery, and the immediate postpartum period.  This person can be the patient's spouse, partner, sibling, doula, or another person they choose. In these settings, this person will be the ONLY support person allowed to be present during the patient's care. It is discouraged that the support person be 60 years of age or older. We are calling all patients expected to deliver. This designated support person must:

Have their temperature taken every 12 hours
Must stay in room when meals are delivered
In addition:
Any visitors meeting these exceptions must be screened for symptoms (cough, shortness of breath, or fever) or potential exposure to someone with COVID-19 and the duration and number of visits should be minimized.

Hospitals should attempt to provide other forms of communication to meet the needs of their patients.
Hospitals must post signage notifying the public of the suspension of visitation in all hospital entrances and in parking lots. In addition, these policies should be posted to the hospital's website and social media pages.