After saving lives, Nathan Littauer aims to improve them!

According to an article from Harvard Health published March 2021, and the National Institutes of Health (NIH), 50% to 80% of patients continue to have troubling symptoms three months after the onset of COVID, even after tests no longer detect the virus in their body. Also, according to early studies July 2020 from NIH, one in ten people with COVID may develop long-lasting symptoms for at least a year. Always embracing new medical approaches, Nathan Littauer Hospital & Nursing Home announces the launch of a new relief program for those suffering with the long-term effects of COVID. Survivors of both mild and severe COVID illnesses report a wide range of symptoms that can persist for weeks or even months after they are diagnosed. These patients, sometimes called "Long-haulers" or people with "Long COVID." Therefore, Nathan Littauer is announcing a new COVID Recovery Program aiming to restore people back to better health. "This program shows the strength of our fully-integrated health delivery system," says Littauer's President and CEO, Sean Fadale. "From physical therapy, to diagnostic imaging, to primary care and beyond, we bring these pieces together for the good of our most vulnerable neighbors."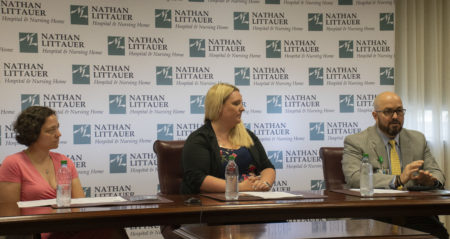 The COVID Recovery Program at Nathan Littauer is for COVID survivors who are medically stable, but not able to return to their premorbid and/or prior activity levels. Littauer's program is a whole-person approach with customized treatments for a patient's path to recovery. Those suffering from Long COVID may have, but are not limited to: fatigue, exercise or exertion endurance issues, headaches, brain fog, dizziness, problems concentrating, loss of taste or smell, gastrointestinal issues, sleep disturbances, breathing issues, lung and heart inflammation, clotting issues, or any other new symptoms.
"This program will provide a much-needed service to our patients and our community," says Littauer's COVID Recovery Program Leader Nicole Higgins, RPA. "We provide an environment where patients can get answers and we intend to help people recover, while all the time, listening."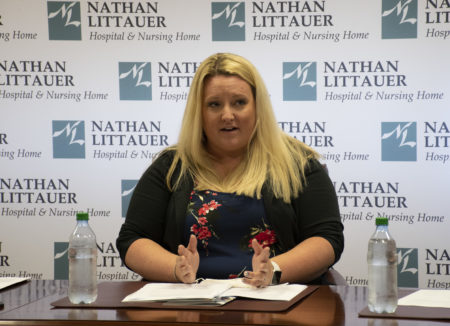 If a person is suffering from Long COVID, Nathan Littauer Hospital would like members of the community to know: "We believe you, and we are here to help."
How does the COVID Recovery Program at Nathan Littauer Hospital work? Littauer explains:
First, we listen. Patients with lasting COVID complications often feel no one believes them. Patients will not experience that with us. We listen, create individualized treatment plans, and provide an environment where patients can get answers to their questions and quick referrals to participating specialists.

Second, we test and start customized treatment plans. We also have specialists throughout our health system who can provide timely consultations. Patients may receive referrals to our Physical Therapy, Vascular, Neurology, and Wellness Specialists.

Third, we are providing lasting support through wellness and offer education for our community, designed to teach and support.
Why is Nathan Littauer Hospital launching the COVID Recovery Program? Higgins affirms, "There are many people who are suffering in silence or feel ignored when it comes to their long-lasting COVID symptoms. This program will provide a much-needed service to our patients and our community. People deserve to have their problems evaluated in a systematic way, by experienced clinicians who care. We have built that program. We have a responsibility to help, because we can."
The healthcare organization developed a multidisciplinary team, studied many Long COVID Programs, and most importantly, collaborated with Brian Curtis, MD, of Peoria, Illinois, an Internal Medicine Specialist specializing in Long COVID care. "I have enjoyed collaborating with Nathan Littauer Hospital staff and providers as they create a responsive, clinical program for people suffering with long-COVID," says Curtis. "As a physician who designed a COVID 'Long Haulers' program in December of 2020, I can say the clinical landscape for some patients struggling to recuperate from COVID is complex. Through our sharing, I believe Littauer has the building blocks to assist their patients in their trajectory for recovery. I did take note that Nathan Littauer is a small, regional hospital looking to provide the most cutting-edge services to their community. I applaud their entrepreneurial, forward thinking approach to rural medicine. I look forward to sharing notes in the months to come."
Fadale agrees, "I'm looking forward to patients engaging with our health system, particularly those who may have suffered with COVID. It is our quest to help them on their journey to better health. This is the right solution, at the right time."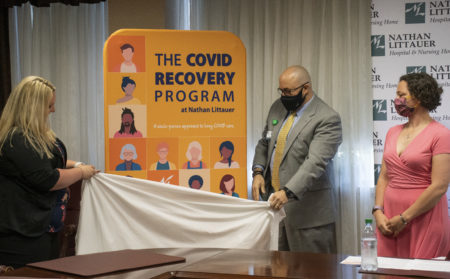 If you, or someone you know, could benefit from Nathan Littauer's COVID Recovery Program, please call (518) 774-1883 or email COVIDrecovery@nlh.org for your appointment today.
XXX
About Nathan Littauer
Nathan Littauer Hospital and Nursing Home is a full-service, 74 bed acute care hospital with an 84 bed skilled nursing home. Since 1894, Nathan Littauer has provided safe, high-quality health and wellness services with a focus on securing appropriate new technologies for people residing in Upstate New York. Over the years, the hospital has expanded its services in order to offer health care that is comprehensive, accessible, and relevant to the needs of the communities they serve. More information can be found by visiting www.nlh.org.