Around the World in 80 Days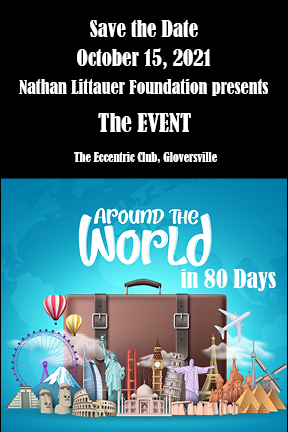 Dear Friends,
It seems that we were not destined to travel "Around the World in Eighty Days."  Regrettably, we are forced to cancel our in-person gala scheduled for Friday, October 15, 2021.  In 2020, we were fortunate to have support for a scaled-down, outdoor evening. This year the challenges of COVID 19 make even that impossible.
At this moment, Fulton County is lagging in vaccination and leading in infection rate.  The vaccine mandate has exacerbated an already challenging workforce shortage, and costs to protect our community and care for patients have skyrocketed.
While Littauer remains financially strong, the unplanned costs and decreased revenue related to this pandemic make donor support essential. Through The EVENT, the Nathan Littauer Foundation traditionally raises over $100,000 each year.  Cancelation puts that goal in jeopardy at a time of great need.
We humbly ask that you consider supporting this fundraiser.  The Foundation has committed to raising at least $75,000 right away to support the cost of four WellScreen screening stations and ten Powered Air Purifying Respirators, which are vital to Littauers' operation.
We can reach this goal with your help!
Would you please send a check today?  All sponsors and guests will be recognized in our printed program, on a special lobby plaque, on social media platforms, and in our published "Thank You" advertisement.  Deadline to appear in the EVENT Journal is October 31, 2021.
Hopefully, we can all celebrate together next year with a newly imagined EVENT!    

Thank you,
Geoffrey W. Peck
Vice President of Population Health Nathan Littauer Hospital
Executive Director Nathan Littauer Foundation