Nathan Littauer Nursing Home
Visitation Guidelines
The guidelines below are effective September 17, 2020, 2:00 p.m.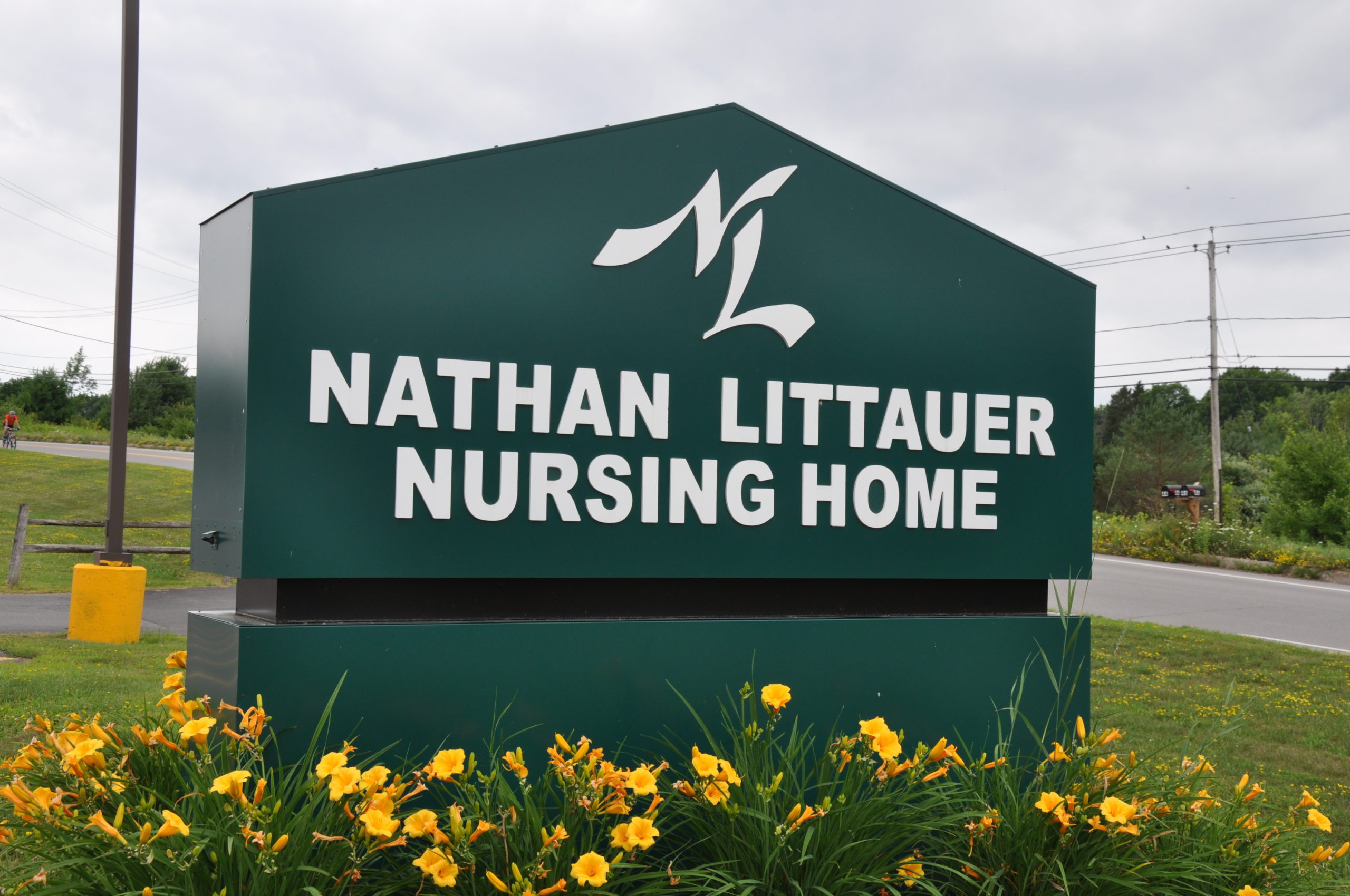 In order to offer visitation and to mitigate the risk of COVID-19, we have developed the following procedures:
Outdoor, supervised visitation will be available, weather permitting, on the West Dining Room Lobby Patio. The area can accommodate three residents, and no more than two visitors at a time for each resident, for a 30-minute period.  All residents and visitors must socially distance (remain 6' apart), wear masks (covering mouth and nose), and perform hand hygiene. A procedure mask will be provided to visitors, to be kept for use during their visitation.
Tables, chairs and any other items touched by individuals will be wiped down between visitors with appropriate cleaning products.
All visitors must comply with the Screening Protocol (recording name, address, telephone numbers, temperature check, and answer the symptom and travel questions), and cleared for screening to visit.

A visitor must present a verified negative test result within the last week (7 days) and visitation must be refused if the individual fails to present such negative test result, exhibits any COVID-19 symptoms, or does not pass screening questions.

Visitors under the age of 18 must be accompanied by an adult, 18 years of age or older.
Current COVID-19 positive residents, PUIs (Persons Under Investigation for COVID-19), and residents in a 14-day quarantine or observation period, are not eligible for visits.
If any visitor fails to adhere to the protocol, they will be prohibited from visiting for the duration of the COVID-19 state-declared Public Health Emergency.
The visitors will enter the patio area on the path between the Nursing Home and the Dialysis Center. Visitors will not be allowed to enter the building.

We may resume visitation with the absence of any new onset of COVID-19 in the nursing home, as reported to our regulatory agencies, for a period of no less than 14 days (previously the time frame was 28 days with an onset of a new positive COVID-19 result).



Hours will be arranged at the following times:
Monday: 2:00 p.m.  |  3:00 p.m.  |  4:00 p.m.
Wednesday: 10:00 a.m. | 11:00 a.m.
Friday: 2:00 p.m. | 3:00 p.m. | 4:00 p.m.
Visitation will be paused with a new confirmed COVID-19 positive resident and/or staff, and as long staffing levels can accommodate the visitation plan.
To schedule a visit, please call Melissa Buanno at (518) 773-5613, or MBuanno@nlh.org .