Nathan Littauer Nursing Home
Visitation Guidelines
The guidelines listed below are effective
January, 17 2022 at 8:00 a.m.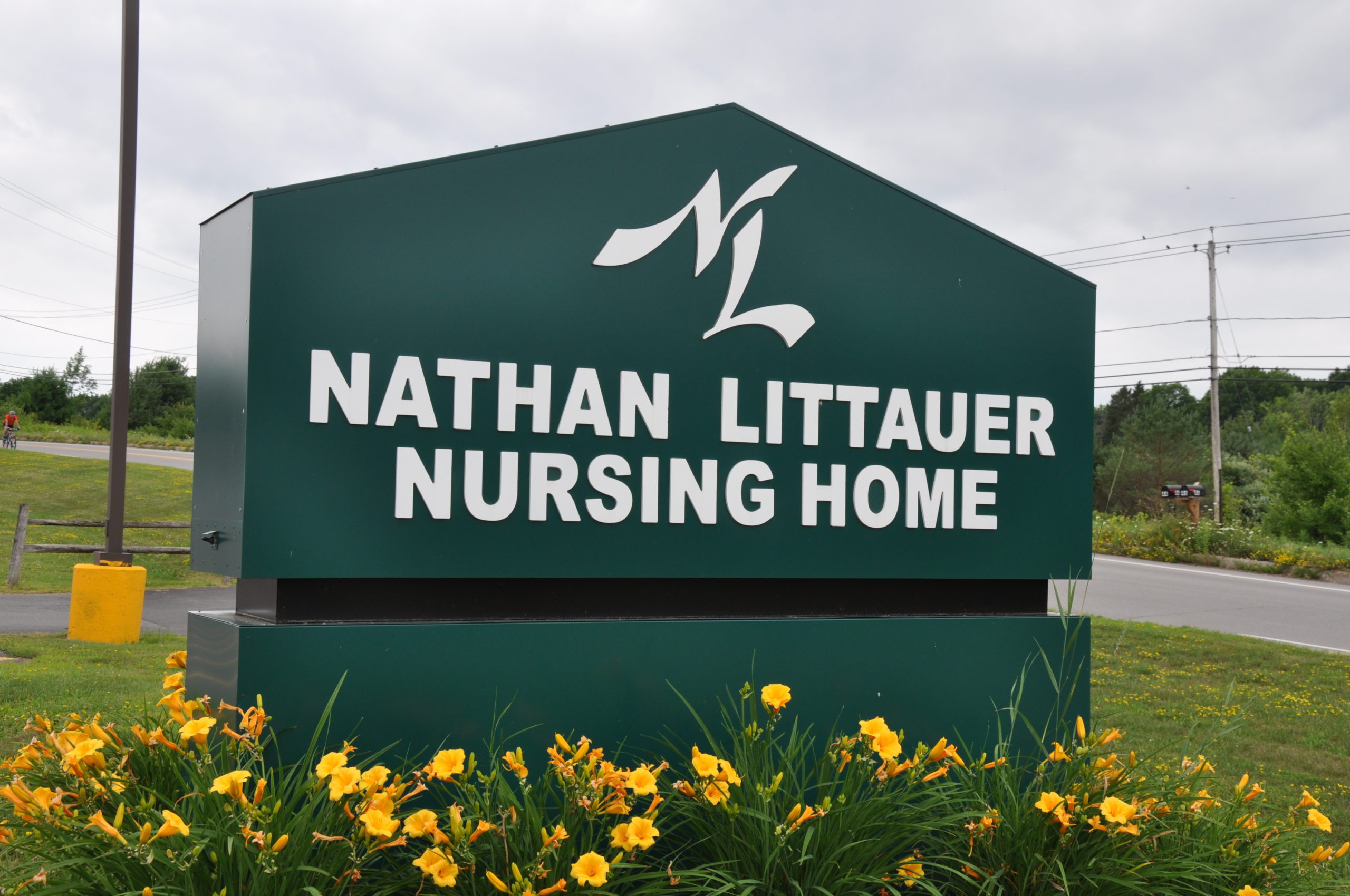 In order to offer liberal visitation and mitigate the risk of COVID-19, we have developed the following procedure, effective January 17, 2022:
All visitors will enter through the Nursing Home Main Entrance and must comply with the screening protocol by utilizing the WellScreen. (Please bring your driver's license.) Visitor stickers must be adhered to clothing and visible at all times.
Visitors 2 years of age and up must verify they are free of symptoms, as well as wear a mask. Children 5 years of age and up must test.
All visitors must provide a negative resulted SARS-CoV-2 test in order to enter the Nursing Home as follows: up to one day prior to visitation for antigen tests and up to two days prior to visitation for NAAT (Nucleic Acid Amplification Tests or PCR) tests. Upon screening, each visitor will have to provide documentation or conduct an antigen test, if available.
Core principles are consistent with the Centers for Disease Control and Prevention guidance and must be adhered to at all times. The core principles reduce the risk of Covid-19 transmission.
Outdoor (weather permitting), and indoor visitation, are available.
Please note: visitors are permitted to attend recreation programs with residents, but must strictly adhere to maintaining 6 feet of distance between residents.
During outbreaks, visitation may be restricted to residents and visitors. During this time, residents should avoid spending time in hallways and other common areas.
Core Principles of COVID-19 Infection Prevention
Visitors who have a positive viral test for COVID-19, symptoms of respiratory or gastrointestinal disease, or currently meet the criteria for

quarantine

, should not enter the facility. Facilities should screen all who enter for these visitation exclusions.

Hand hygiene (use of alcohol-based hand rub is preferred).
All visitors must wear a well-fitting non-surgical paper mask or a mask of higher quality (i.e., surgical mask, KN95 or N95) at all times during any visitation at the facility. If the visitor wishes, a cloth mask may be placed over the paper mask. The masks must cover both the nose and the mouth.
Physically distance from facility personnel and other residents/visitors that are not directly associated with the specific resident being visited by that individual;
Cleaning and disinfecting high-frequency touched surfaces in the facility often, and designated visitation areas after each visit
Appropriate use of Personal Protective Equipment (PPE)
Effective cohorting of residents (e.g., separate areas dedicated to COVID-19 care)
Resident and staff testing conducted as required.

Visitors under the age of 16 must be accompanied by an adult, 18 years of age or older. Children under the age of 16 may not be left alone with a resident.
Compassionate care visits will be allowed when appropriate.
This page has been updated for November 15, 2022 at 9:29 a.m.
---