Nathan Littauer Nursing Home
Visitation Guidelines
 The guidelines listed below are effective
July 19, 2021 at 9:00 a.m.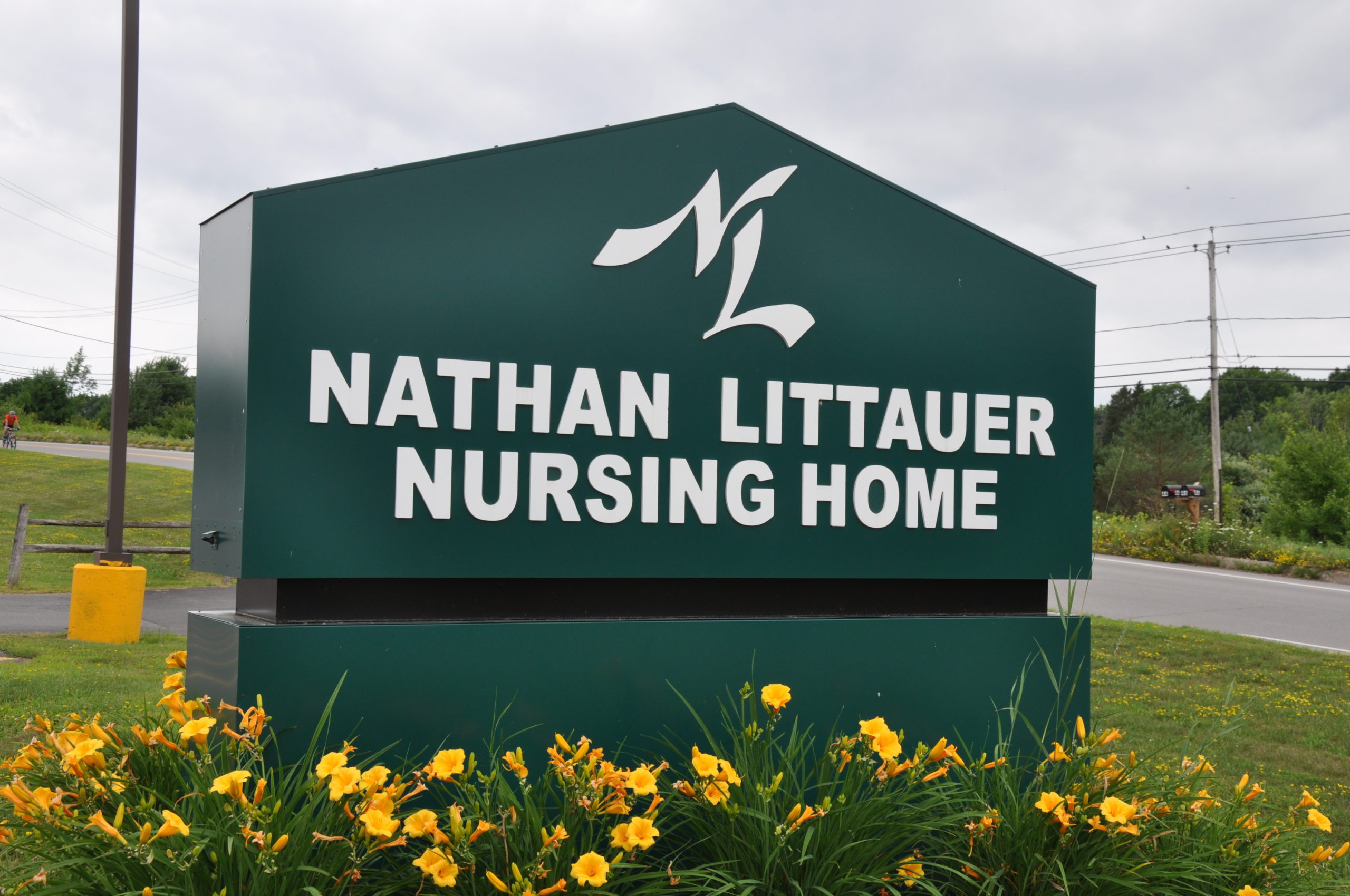 In order to offer visitation and mitigate the risk of COVID-19, we have developed the following procedure, effective July 19, 2021:
Outdoor (weather permitting), and indoor visitation are available, with no more than 2 visitors at a time for each resident. All residents and visitors must socially distance (remain 6' apart), wear masks (covering mouth and nose), and perform hand hygiene.  Visitors must remain within the outlined visitation areas at all times.
Tables, chairs and any other items touched by individuals will be wiped down between visitors with appropriate cleaning products.
All visitors will enter through the Nursing Home Main Entrance and must comply with the Screening Protocol (either by WellScreen, please bring your driver's license, or manual recording of name, address, telephone numbers, temperature check, answer the symptom questions), and infection control practices.
Visitation hours are available at the following times:

Monday | 11:00 a.m. – 3:00 p.m.
Tuesday | 11:00 a.m. – 3:00 p.m.
Wednesday | 11:00 a.m. – 3:00 p.m.
Thursday | 4:00 p.m. – 7:00 p.m.
Friday | 11:00 a.m. – 3:00 p.m.
Saturday | 11:00 a.m. – 2:00 p.m.

We, and the Department of Health, strongly recommend that visitors be COVID tested, even if you have been vaccinated. Please call Melissa Buanno, Admissions Coordinator, to schedule COVID testing at (518) 773-5613, or mbuanno@nlh.org.
The COVID test results will be entered by Employee Health or designee. The interface reports to the New York State Electronic Clinical Laboratory Reporting System (ECLRS).  If there is a positive result, the visitor will not be allowed to visit and will be contacted by someone from Nathan Littauer Hospital, as well as from someone from the local (County) Department of Health in which they reside.  The visitor's insurance will be billed for an administrative fee for the specimen collection.
Visitors under the age of 16 must be accompanied by an adult, 18 years of age or older.
Current COVID-19 positive residents, PUIs (Persons Under Investigation for COVID-19), and residents in a 14-day quarantine or observation period, are not eligible for visits.
Indoor visitation will be limited under the following circumstances:

Unvaccinated residents if the nursing home's COVID-19 county positivity rate is >10% AND <70% of residents in the facility are fully vaccinated;
Residents with confirmed COVID-19 infection, whether vaccinated or unvaccinated until they have met the criteria to discontinue Transmission-Based Precautions, OR
Residents in quarantine, whether vaccinated or unvaccinated, until they have met criteria for release from quarantine.

Compassionate care visits will be allowed when appropriate.
Virtual visits will continue whenever possible.
This page has been updated for July 16, 2021 at 3:05 p.m.
---