Battling to breathe. Childhood asthma a local concern
By ZACH SUBAR, special to The Leader-Herald.
First published in print: Sunday, August 31, 2009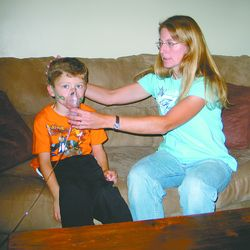 Charleston resident Heather Bivins works hard to care for her 5-year-old son Josh, who was diagnosed with asthma at age 1 1/2. She has made several early morning trips to the emergency room, and has learned to juggle the medications and devices necessary to keep the disease in check. "It's been a roller-coaster ride," Bivins said. "He's to the point now where we've gone through it enough times where we know the symptoms and treat them aggressively."
Still, even though there are many diligent parents like Bivins who care for their children's asthma, numbers indicate high rates of childhood asthma, especially in Fulton County, are a reality in this area. Recent data from U.S. Sen. Kirsten Gillibrand's office indicate children were hospitalized overnight 115 times from 2005 to 2007 in Fulton County for asthma symptoms. There are an estimated 866 children with asthma in the county. The number of times a child was placed in a hospital overnight compared to the number of children is higher here than almost anywhere else in New York.
That total number of overnight stays within the three-year time span out of the 866 estimated children with asthma in the county means that, on average, one in about every 7 1/2 children was required to stay overnight in a medical ward.
"If [children] have it, it's not surprising that you would see hospitalizations," Fulton County Public Health Director Denise Frederick said. "We're one of the highest areas outside of New York City." The next highest rate is in Sullivan County, where about one in every 8 1/2 children was required to stay overnight in a hospital, followed by Erie County, where about one in every 10 children with the disease had an overnight stay. The Bronx has the highest overall rate, with about one of every four hospitalized.
One of every 17 Montgomery County children with asthma was hospitalized overnight, while Hamilton County's rate is one in every 20 children. "It's become so commonplace that you don't necessarily think of it as a problem," local pediatrician Dr. Richard A. Solby said. "And then you see numbers."
Solby, who works at Nathan Littauer Hospital's Primary Care Center in Johnstown, said he deals with lots of child asthma patients. Part of the problem here, he said, is that many parents do not necessarily treat the disease every day, as they should.
Instead of attacking the disease in a proactive manner, Solby said, and administering the proper medicines every day, parents often wait for symptoms to start before they bring their children in to be treated.
"If you're not treating those other components on a daily basis and being preventative, you're running into a daily problem," Solby said. Child asthma has been pinpointed as one of the top five public health issues in the county, according to Littauer spokeswoman Cheryl McGrattan.
Frederick said the numbers here may be so high because of the relatively large number of pregnant women here who smoke.
Tobacco, she said, is a trigger for asthma, and since there is a large number of women who report they smoke while pregnant, tobacco is likely a major contributing factor.
One way to reduce the numbers, she said, is to encourage less smoke in the air.
"It's working with OBGYNs to talk with their pregnant moms about smoking and encourage them to stop smoking, to really enforce no smoking in cars and in homes," Frederick said.
She said there are some encouraging signs childhood asthma in the county is dropping. On average, there were about 108 children age 4 and younger per each 10,000 people hospitalized for asthma in 2005. In 2006, however, that number dropped to 90 per 10,000 residents.
Those numbers correspond with statistics that indicate the number of pregnant women who smoke in Fulton County is dropping. Forty percent of women in Fulton County smoke while pregnant, compared to 43 percent in 2005. The statewide average is 13.1 percent.
Local hospitals and agencies do work to put together programs that help educate the public on smoking and childhood asthma.
Littauer's HealthLink service schedules programs with pediatricians and respiratory therapists intended to inform participants about the disease's causes, as well as treatment options. And Project Action of Fulton, Hamilton and Montgomery Counties is working to expand the Clean Indoor Act to prevent smoking in places like playgrounds and pools, and to reduce children's exposure to secondhand smoke.
Its director, Rebecca Manwaring, said the group does the work so "people are less likely to initiate smoking when they're younger." Project Action, however, recently lost out on a Department of Health grant that would have allowed the organization to do advocacy and educational work with pregnant women in the area.
Because of that, it will focus more on policy matters, such as the Clean Indoor Act, to reduce children's exposure to asthma-causing materials, the sort of action that Frederick says is important.
Bivins said that after her brother, who has a daughter with asthma, moved from this area to Michigan, his child's symptoms decreased somewhat.
In the past, she said, her brother's family used a nebulizer-a machine that helps administer asthma medication-to treat the disease, but after the move, her niece no longer needed it.
"She had constant issues here in New York state," Bivins said.