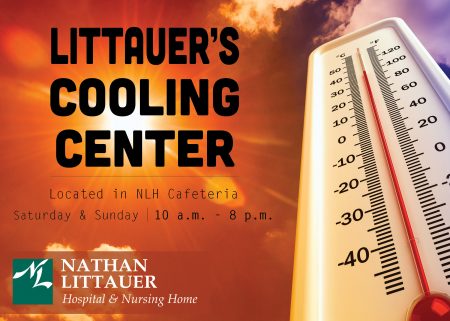 For the health, safety, and comfort of our residents, Nathan Littauer Hospital will open a Cooling Center this weekend in our cafeteria on our main campus. The Center will offer water and seating in an air-conditioned space. We are opening the Center to the public while we temporarily deal with the health effects of this weekend's heat wave. Residents using the Cooling Center are encouraged to bring reading material, games, etc. to better enjoy the Center.
The hours of the Cooling Center will be:
Saturday – 10 a.m. to 8 p.m.
Sunday – 10 a.m. to 8 p.m.
These services are aimed at our patients and at-risk populations and those without air conditioning.
Keep in mind: Electric fans may provide comfort, but when the temperature is in the high 90s, they will not prevent heat-related illness.
More information about heat-related illness can be found here: https://www.cdc.gov/disasters/extremeheat/heattips.html