Gloversville Nursing Home Residents Receive First COVID-19 Vaccine
GLOVERSVILLE, NY – Yesterday, was "V-Day" or "Vaccination Day" at Nathan Littauer's Nursing Home. January 6, 2021 at 9:30 a.m., the first resident at Nathan Littauer's Nursing Home, 90-year-old Shirley Frederick, was given their first dose of Moderna's SARS-CoV-2/COVID-19 vaccine. After receiving the shot, Frederick exclaimed, "That's it!?"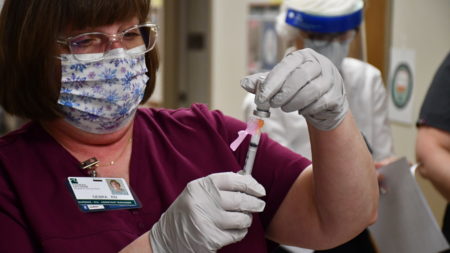 Of the first vaccinated residents, was 93-year-old Bertha "Knuckles" Kenyon. Bertha, a Nathan Littauer Nursing Home resident for nearly two years, expressed she was "Extremely excited," to receive the vaccine. Within a matter of seconds, Bertha was vaccinated. Shortly after, she said, "It will protect me, and it wasn't bad at all. I didn't feel a thing. I'm feeling really, really, good." Today, she reports no side effects.
Interestingly enough, Bertha is the mother of Littauer employee, Lisa Kenyon, Nursing Home Manager. Fortunately, they are now one of the very first familial vaccination pairs. Lisa says, "I'm so glad. My mother is very on-top of her health, and she was ecstatic to get the shot."
In a joint effort to distribute the vaccine as quickly and as safely as possible; various Littauer staff, retired Littauer nurses included, focused their efforts towards a common goal: the vaccination of their beloved residents.
"The staff were amazing," says Littauer's Vice President and Administrator of NLH Nursing Home, Leslie Beadle. "They worked as efficiently as possible with one another. Together, we were like a well-oiled machine. The residents were wonderful and their families were very cooperative. The coordinated process took only a few hours, as we projected. Then, they were ready for Bingo in the Halls."
Nearly 90 percent of Nathan Littauer's Nursing Home residents will have received their first shot, all on their own accord and some with the approval of their loved ones. With a vast majority of Littauer's residents having established an immunity, it will help protect them from the SARS-CoV-2/COVID-19 virus in the future, and possible exposure to the virus. Everyone is feeling well.
Once retired Littauer nurse, Debra "Deb" Henry, was happy to answer the call in assisting with the vaccination of Littauer Nursing Home residents. "A shot in the arm is a hopeful sign for many, including our residents and their family members," Deb says. "It has been a really tough time for them. Now, they have a strong line of defense against the virus. It's a heartwarming moment."
The residents who have received their first dose of the Moderna SARS-CoV-2/COVID-19 vaccine today, will receive their second dose in 28 days.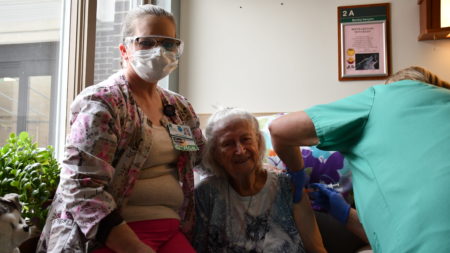 Lisa Kenyon adds, "We strongly encourage the immunization of others and encourage them to get vaccinated. The vaccine is safe, effective, and anybody who is able to get – should get it. My mother thinks the same way."
Vaccination Day in the Littauer Nursing Home was an invigorating day for the residents and staff. Beadle confidently said, "We're hopeful this is a step in the right direction; a step towards normality and the safety of, not only our residents, but our community members, too."
###
About Nathan Littauer
Nathan Littauer Hospital and Nursing Home is a full-service, 74 bed acute care hospital with an 84 bed skilled nursing home. Since 1894, Nathan Littauer has provided safe, high-quality health and wellness services with a focus on securing appropriate new technologies for people residing in Upstate New York. Over the years, the hospital has expanded its services in order to offer health care that is comprehensive, accessible, and relevant to the needs of the communities they serve. More information can be found by visiting www.nlh.org.