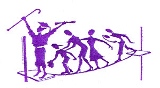 HEALTHLINK LITTAUER'S FOURTEENTH ANNUAL
WOMEN'S WELLNESS CONFERENCE SCHEDULED
HealthLink Littauer, the community health and wellness service of Nathan Littauer Hospital and Nursing Home, announces it's fourteenth annual women's wellness conference entitled "Images Of A Woman ~ You've Got Rhythm!" will be held on Thursday, June 10 at the Holiday Inn, 308 N. Comrie Avenue (Route 30A).
"Treat yourself, an employee, coworker, friend, relative, or loved one to this special event that focuses on women's health and wellness," stated Sue Cridland R.N. B.S.N., Littauer's Director of Community Education.
"This year's keynote presentation is 'GRACE HAPPENS! A Humorous View Of Aging Gracefully' given by Rose Golden, President of GoldenLane Associates Inc. With a gift for story telling and a lively sense of humor, Rose will share her experiences and insights on the everyday challenges and victories of graceful aging," she added.
Again this year, two sessions are being offered to accommodate all women who may want to participate. You can choose to attend from 12 to 2:30 p.m. or 6 to 8:30 p.m. The doors will open one hour prior to each session for hors d'oeuvres, a Chinese raffle, local vendors and exhibitors, followed by a delicious buffet-style meal.
There is a fee of $30 payable by June 4 to reserve your space. If you're interested in a vendor table, the fee is $50 for one session or $75 for both sessions. For more information, please call HealthLink Littauer at 736-1120.