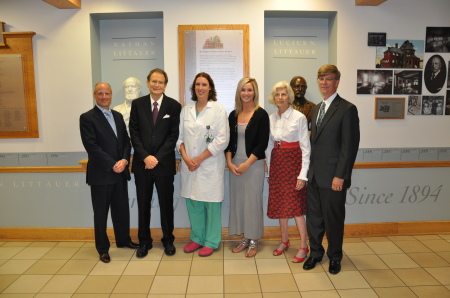 GLOVERSVILLE – Recently, the inaugural recipients of the Priscilla Parkhurst Ferguson and Robert A. Ferguson Fund for Education scholarship award were presented at Nathan Littauer Hospital & Nursing Home. Scholarships of $ 2,500 each were granted to Lisa A. Winchell and Brooke M. Nellis, both employees at Littauer.
Lisa Winchell currently serves Nathan Littauer Hospital as an operating room technician and is pursuing an Associate's Degree in nursing from the Belanger School of Nursing at Ellis Hospital.  Upon completion Ms. Winchell will be trained as a Registered Nurse.
Brooke Nellis currently serves Nathan Littauer Hospital as a Med / Surg. Registered Nurse and is pursuing her Bachelor's Degree in nursing from Utica College.
"The Littauer Foundation is honored to have the Fergusons create this prestigious and generous award for Littauer employees" said Geoffrey Peck Vice President / Executive Director Nathan Littauer Foundation. "They have become great benefactors."
Peck added it was important to the Fergusons that donations be used where they would have the most impact. "They chose Littauer, and we are so thankful."
Priscilla Parkhurst Ferguson is a Gloversville native. She and her husband Robert are both professors at Columbia University, Priscilla in the Department of Sociology and Robert is the George Edward Woodberry Professor in Law, Literature, and Criticism in the Law School. They own a house in Gloversville and are active in community life here. The Ferguson Fund comes out of a family tradition of support for the Hospital. Priscilla's father, Richard B. Parkhurst, served as a longtime member and officer of the Nathan Littauer Hospital Board of Directors.
As educators, Priscilla and Robert appreciate that learning never ends, and they know that the need for incremental learning is especially important and exciting in the medical field where necessary advances in health care take place all of the time. They also feel it is a good way to serve the community generally. Just as Littauer employees are the heart and soul of the Hospital, so the Hospital itself helps to sustain Gloversville as a vital and desirable place to live. Priscilla and Robert hope that the Ferguson Fund will grow to the point where it can help many employees to advance their own careers through continuing education while furthering the goals of ever better and safer patient care.
"We need the best and brightest minds to enter and remain in the field of healthcare" said Laurence Kelly, Littauer President and CEO. "The field of healthcare must have our finest and most prepared people. This scholarship ensures that its recipients desiring to further their education will have the support to do so. It is hard to anticipate the demands that will be placed on hospitals in the future, but this scholarship helps us prepare our workforce for whatever that future will be. ".
XXX
Nathan Littauer Hospital and Family of Health Services serves Fulton, Montgomery, and Hamilton Counties in Upstate New York with a full-service 74-bed acute care hospital, eight primary care centers, a nursing home and a community education center. The hospital was founded in 1894, has 1,000 employees and recently hosted ground-breaking spine surgeries. For more information please visit www.nlh.org.