The EVENT will celebrate 125 years of serving the community
GLOVERSVILLE, NEW YORK (May 13, 2019)  – The Nathan Littauer Foundation is releasing details of The EVENT, a gala designed to support the hospital's expansion and mission for improved access to world-class healthcare. "This gala gives us the opportunity celebrate 125 years of serving this community while we also share our vision for the future," stated Geoff Peck, Executive Director of the Foundation. He added, "It also happens to be a really fun party."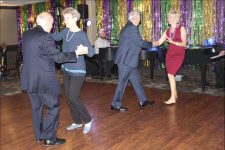 The EVENT, benefiting Nathan Littauer Hospital will be held Friday, June 7, 2019 at 7 p.m. at the Hales Mills Country Club in Johnstown, NY. The signature fundraiser will feature a more relaxed Caddyshack theme suitable for its golf course location.
With an inspired menu and décor, THE EVENT will highlight the culinary talents of Executive Chef Brad Saunders. The décor will be the vision of event decorator Deb McFarland. Silent auction items including art and travel packages will be available, and a 50/50 raffle will give guests a chance to have a winning evening.
Last year, generous support helped the Nathan Littauer Hospital Foundation raise more than $130,000.
"This year we are asking for support to bring our Medical Arts Building to fruition," explained Mr. Peck. "Our community needs improved access to world-class medical care. This 12,000 square-foot facility on our hospital campus will perfectly address the on-going needs of our community."
People of all ages are encouraged to join the hospital for a great party for a great cause. General admission tickets start at just $125. Patron tickets are $250.00 per person. Tickets can also be purchased online by visiting: https://www.nlh.org/giving/2019-event
Please call (518) 773-5505 for reservations and questions. Guests usually choose to attend The EVENT in cocktail attire, evening wear or costume. Mr. Peck concluded, "I think this year's theme will inspire some great costumes and fun interaction." He explained, "And no EVENT would be complete without a few surprises. You never know who might show up to entertain our guests."
THE EVENT is supported by Millennium Medical Imaging, Saratoga Casino Hotel, Sodexo, Schumacher Group, Century Linen, Taylor Made, and NBT Bank.
For more information or sponsorship opportunities, please contact the Nathan Littauer Foundation office at (518) 773-5505, or by emailing us at NathanLittauerFoundation@nlh.org.
To make a gift in support of Nathan Littauer Hospital, visit www.nlh.org/ https://www.nlh.org/giving or contact Kelly Colby, at 518) 773-5505, or by emailing us at NathanLittauerFoundation@nlh.org