GLOVERSVILLE, NY – Nathan Littauer Hospital is proud to welcome Dakota Pike to the Marketing and Communications team. He has been employed with Nathan Littauer for nearly four years in Nutritional Services and recently took the position of Public Relations Coordinator August 3.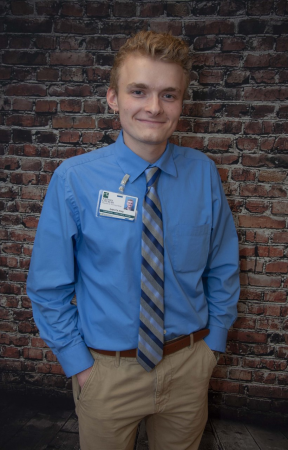 "During the interview process, Dakota stood out as someone who meets a challenging situation head-on, while approaching a myriad of situations with high degree flexibility," says Cheryl McGrattan, Vice President of Marketing and Communications. "As a member of the NLH family for four years, his reputation as a team player focused on patient care preceded him. Dakota's integrity and ambition is something that will be fully appreciated by our staff and community in the coming months. His fresh perspective, coupled with a comfort level writing for multiple audiences is already making an impact. He is a good fit."
Dakota is a 2019 cum laude graduate of SUNY Oneonta with a Bachelor of Science in Human Ecology.
As the Public Relations Coordinator, a few of Dakota's roles are to issue press releases, expand the hospital's social media presence, and to create and maintain positive relationships for Littauer and the community.
"I am very happy to be part of Marketing and Communications," says Dakota Pike. "Everyone has been very supportive of my decision to come to the department. I love my position, my co-workers, and the many staff at Nathan Littauer. It is a great place to work and it truly is a very caring and welcoming environment."
Congratulations, Dakota Pike!
# # #
About Nathan Littauer
Nathan Littauer Hospital and Nursing Home is a full-service, 74 bed acute care hospital with an 84 bed skilled nursing home. Since 1894, Nathan Littauer has provided safe, high-quality health and wellness services with a focus on securing appropriate new technologies for people residing in Upstate New York. Over the years, the hospital has expanded its services in order to offer health care that is comprehensive, accessible, and relevant to the needs of the communities they serve. More information can be found by visiting www.nlh.org.