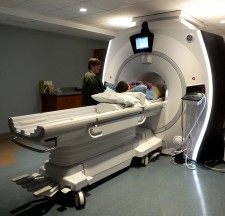 Magnetic Resonance Imaging (MRI) is an advanced, state-of-the-art scan that produces clear images of the human body without the use of x-rays. MRI uses a powerful but harmless magnetic field and radio waves (like the kind that transmit radio stations) to clearly visualize internal structures (i.e. brain, spine, joints, etc).
Technology meets comfort at Littauer. We completed the construction of a new MRI suite in the main hospital campus and we now scan patients using the GE Optima MR450w with GEM, the latest in state-of-the-art technology. The GE Optima* MR450w's innovative wide bore design allows more space for added patient comfort. The table surface with different cushion densities is designed to alleviate pressure points, and a new coil array that offers feet-first imaging for all exam types. In addition, GE's Optima MR450w includes Silent Scan, a revolutionary new technique that makes some exams as quiet as a whisper.
This technology offers:
A wide-bore architecture to add space around patients
Clinical applications designed to reduce exam time
A table surface designed to alleviate pressure points
A coil array that enables feet-first imaging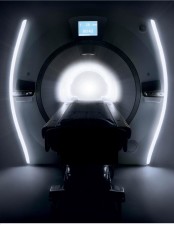 For questions related to our MRI services, please reach us at (518) 773-5520. To schedule an appointment (a physician's referral is required), please call our Patient Access Scheduling line any weekday at (518) 775-4250.