Nathan Littauer Nursing Home is getting ready for a week long celebration honoring National Nursing Home Week. This year's theme is "Celebrating the Journey" and is part of the National Nursing Home Week started by The American Health Care Association (AHCA). "We are so proud of the work we do here everyday." said Leslie Beadle, Vice President and Nursing Home Administrator. "Therefore, we are thrilled to celebrate our nursing home, our wonderful residents and our committed staff."
Nathan Littauer's Nursing Home will be joining nursing and rehabilitation facilities nationwide, beginning Mother's Day, May 13, and continuing through May 19, 2012. This year's theme was selected to honor those who are "Celebrating the Journey" by serving others, thus adding value to life and helping to overcome many of the infirmities of age and disability. "We want to celebrate those people that make a positive contribution every day. We are also saluting our staff." Explained Rachel Johnson, Littauer's Recreational Director. She is heading up the festivities at Littauer. She explains, "We have something planned every day to mark the occasion."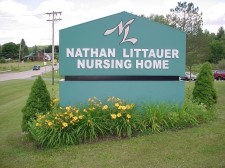 For Nursing Home Week, Nathan Littauer is announcing the following activities the week of May 13, 2012:
Sunday, May 13- In honor of Mother's Day Nursing Home staff will be passing out corsages to all the ladies and hosting a Tea at 2:15 with a violin player.
Monday, May 14– The Nursing Home will be hosting Jackpot Bingo from 2:15-3:15pm for residents.
Tuesday, May 15- The Nursing Home will host a Squish Squash Show at 2:15.
Wednesday, May 16- The Nursing Home will host a patio cocktail party at 2:15 pm. The Nursing Home will be throwing a "Cruise Ship Dinner Buffet from 6-8 pm with a band and cocktail attire with entertainment.
Thursday, May 17- The Nursing Home will be hosting the "The Ody Show" for the residents from 2:15-3:15 pm. At 6:30 there will be Smore's by the campfire.
Friday, May 13– 6:30 Line dancing demonstration.
Saturday, May 14- 10:30 Cruise Games and at 2:15 a baking class will be held.
Nathan Littauer Nursing Home is an 84-bed skilled nursing facility providing short and long-term rehabilitation for people of all ages. They are tireless advocates for quality care and services recognizing each person's individuality. The Nursing Home's compassionate and caring employees provide essential care to people in our area. Along with a long-term residence, the center has been instrumental in helping hundreds of people return to their homes through careful rehabilitation. The Nursing Home opened in 1972 and has been recognized by the State for their excellence in care. The Nursing Home currently employs approximately 115 people.