Energy-saving lights installed at Littauer
June 22, 2014
Leader Herald
GLOVERSVILLE – Thanks to an incentive by National Grid, all the lights in Nathan Littauer Hospital & Nursing Home's parking lots were changed from high pressure sodium to LED, a news release said.
According to the release, the move will save Littauer close to 330,000 kilowatt hours and nearly $70,000 per year. The lights also will save more 175,000 pounds of carbon dioxide gas and greenhouse emissions.
"Nathan Littauer Hospital & Nursing Home goes above and beyond just saving energy," said energy consultant Debra Sickles of Wolberg Electric Supply Company in the release. "I wish other hospitals were doing a fraction of what Littauer is already doing."
The NLH Engineering Department and its director, David Bruhns, work with electric suppliers, such as Wolberg Electric, Warren Electric, Constellation New Energy and National Grid, with the goal of using electricity wisely, the release said.
Littauer's other green initiatives include indoor lighting fixture upgrades from 64 to 34 watts; solar-powered, hands-free faucets; LED replacements of fluorescent bulbs and fixtures in corridors and stairwells; and repurposing materials and existing buildings.
"Green initiatives are not just one project; it's a mindset," Bruhns said in the release.
Fixtures on all Littauer campuses have been changed over
PHOTO: Electricians with Fulton County Electric install LED lighting in the Nathan Littauer Hospital parking lot.
Photo submitted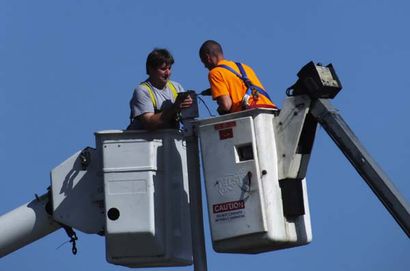 .