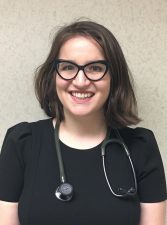 GLOVERSVILLE, NY – Nathan Littauer Hospital is proud to welcome Ashley Rosloff, M.D. to our medical staff. She started her practice July 29 at our Johnstown Decker Drive Pediatric Center.
Dr. Rosloff obtained her Bachelor of Science in Biochemistry at the University of Michigan. She continued her studies at St. George's University in West Indies, Grenada, where she obtained her Doctor of Medicine. Dr. Rosloff completed her General Pediatrics residency at Albany Medical Center.
Dr. Rosloff has also received numerous accolades for her work, including: The Excellent Facilitator Award for Physiology and The Legacy of Excellence Scholarship for St. George's University.
"Everyone loves her," says Meegan Goodman, Network Practice Manager for Littauer. "We are hearing very good things about her from patients, colleagues, and parents."
"I am extremely excited," says Dr. Rosloff. "The staff have been really supportive and helpful. They are extremely welcoming. I love the patients I have had the opportunity to work with, and I am looking forward to meeting more of the community."
Dr. Rosloff is accepting new patients at Littauer's Decker Drive Pediatric Center in Johnstown, NY. Her office hours are from 8:30 a.m. – 5:00 p.m. For more information or to make an appointment, you may call (518) 762-6731 or visit: https://www.nlh.org/medical_staff/ashley-rosloff-md.
# # #
About Nathan Littauer
Nathan Littauer Hospital and Nursing Home is a full-service, 74 bed acute care hospital with an 84 bed skilled nursing home. Since 1894, Nathan Littauer has provided safe, high-quality health and wellness services with a focus on securing appropriate new technologies for people residing in Upstate New York. Over the years, the hospital has expanded its services in order to offer health care that is comprehensive, accessible, and relevant to the needs of the communities they serve. More information can be found by visiting www.nlh.org.