GLOVERSVILLE, NY – Nathan Littauer Hospital & Nursing Home is raising awareness for sepsis. Sepsis is a complication of an infection. It requires immediate and emergency medical attention. Although many may not have heard of sepsis, it has become one man's quest to change that.
"Sepsis is responsible for more patient deaths than any other hospital condition nationally," says Wes McFee, Performance Improvement Specialist with Littauer. "In Littauer's last quarters of 2019, we have out-performed 94 percent of New York State hospitals in regards to compliant sepsis care. We have increased our overall performance for sepsis protocols."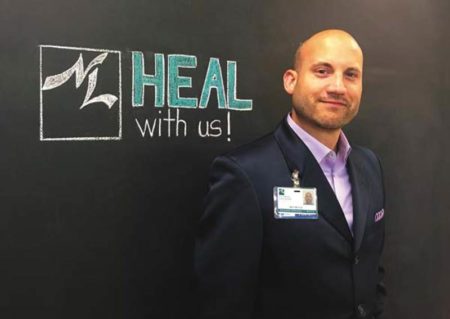 Recently, McFee delivered a statewide presentation on "Littauer's Sepsis Care Initiative" at the request of The New York State Department of Health. The presentation addressed sepsis protocols within the hospital setting, and also discussed corrective action strategies regarding the deadly illness. Using compiled sepsis data, McFee discussed the strategies he implemented for Nathan Littauer Hospital with the Department of Health. The strategies used at Littauer have improved the quality of care, and will serve as a model for other hospitals in New York State to consider adapting.

Nathan Littauer Hospital & Nursing Home also led the charge in providing more awareness for sepsis with their "sepsis awareness campaign" September 2019. As a result, the campaign brought an immense amount of community awareness of the illness. Many members of the region were discussing the dangers of sepsis on social media.

"Sepsis is no laughing matter," McFee adds. "It has a high mortality rate, so we're always looking to improve. This is a beginning of our long-term goals for sepsis care at Littauer. We'll continue these strategies, and reach our goals."
###
About Nathan Littauer
Nathan Littauer Hospital and Nursing Home is a full-service, 74 bed acute care hospital with an 84 bed skilled nursing home. Since 1894, Nathan Littauer has provided safe, high-quality health and wellness services with a focus on securing appropriate new technologies for people residing in Upstate New York. Over the years, the hospital has expanded its services in order to offer health care that is comprehensive, accessible, and relevant to the needs of the communities they serve. More information can be found by visiting www.nlh.org.