Nathan Littauer Hospital & Nursing Home hosted a ribbon-cutting ceremony for the grand opening of the healthcare organization's Caroga Lake Primary Care Center, Thursday, June 24 at 1:00 p.m.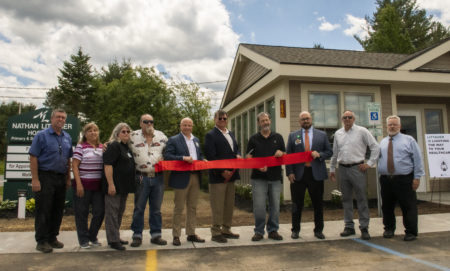 "This care center is important for the health and wellness of the people of Caroga," says Littauer President and CEO Sean Fadale. "We're immensely proud of this center. This care center underlines our organization's goal of making healthcare services accessible. We've got great people at Nathan Littauer, and now a great facility here in Caroga, all for the great people in the area."
The healthcare organization began the center's construction in late September 2020. Previously, Nathan Littauer Hospital leased a portion of the municipal building, owned by the Town of Caroga in 2005.
"In the grand scheme of things, this small building was a huge project," said Littauer Vice President of Population Health and Executive Director of the Nathan Littauer Foundation, Geoffrey Peck. "All of the planning and construction took place during the pandemic. It was a well-coordinated effort from everyone involved."
The new Primary Care Center is approximately 1,350 square feet of space, and is next to Caroga's Town Hall, where the original primary care center was housed.
"We're here for the people of Caroga," says Littauer Office Coordinator Elizabeth "Betsy" Oathout. "I'm incredibly happy with how the center turned out, and I think our patients are, too."
The Caroga Lake Primary Care Center is now accepting new patients. To call and schedule an appointment, or to select a primary care provider, call: (518) 835-2341.