Nathan Littauer Hospital & Nursing Home is proud to announce the Medical Director of the healthcare organization's Hospitalist program, Devjit Roy, MD, has an article accepted for publication with the prestigious British Medical Journal. Roy is one of the authors of the article. "We're extremely proud Dr. Roy received the recognition he deserves for his work," says Littauer's Chief Medical Officer Frederick Goldberg. "The research findings in Treatment of unexplained coma and hypokinetic-rigid syndrome in a patient with COVID-19 provides greater understanding of COVID's complexity. His work may shape future treatments and clinical approaches for people with COVID."
The study follows a patient suffering from severe complications of COVID. The patient experienced encephalopathy (damage or disease which affects the brain), hypokinetic rigid syndrome (the decreased and slowed movements similar to Parkinson's disease), and severe cognitive impairment.
"Some may call the patient's recovery a miracle," says Dr. Roy. "But, on the scientific level there's much more at work. This specific patient in our study was suffering from, not only the negative effects of the virus, but from prolonged hospitalization and being on a ventilator. It was likely this patient was not going to make it."
We are learning, infection complications from COVID vary from person to person. Some positive with the disease feel little to no symptoms. For others, it can ravage their health and respiratory system completely, requiring intubation and placement on a ventilator. Numerous symptoms of the disease suggest even long-term neurological involvement and complications. Proving more challenging, there is little to no literature to describe neurophysiological cognitive state and treatment of patients in the post-intensive care unit (ICU).
Moreover, the patient in Dr. Roy's study began experiencing depleted dopamine stores in the brain due to long-term use of anesthetics to keep the patient breathing on the ventilator, without the risk of erratic or inconsistent breathing patterns. This results in preserved consciousness, tremors, and intact eye movements.
"This patient was at risk of not making it," explained Dr. Roy. "We needed to act fast. So, we tried an approach that was scientifically supported, and it worked. It was very successful."
Dr. Roy and his care team immediately began treating the patient with Modafinil (used to treat narcolepsy) and Carbidopa-Levodopa (used to treat Parkinson's disease). These medications have been shown to improve and accelerate functional recovery and sleep-wake cycles.
Within just a few days, the patient was awake, alert, and began showing increased movement of their body. After the first week of treatment, the patient was weaned from ventilator usage, able to communicate meaningfully, and demonstrated increased mobility. When the patient was medically stable for discharge and rehabilitation, the patient continued their medication regiment and showed overall signs of improvement. The patient was discharged home after a month of acute rehabilitation.
"This study is very meaningful to me," Dr. Roy adds. "Not much was known about COVID at the time – there still isn't," Dr. Roy adds. "Nobody would've imagined this crisis to happen when it did, and for it to have put such a strain on hospitals, our healthcare systems, and our country. But it did. Yet, we have responded in the best way possible – get more information, understand more about the virus, and find answers. And we are actively doing that."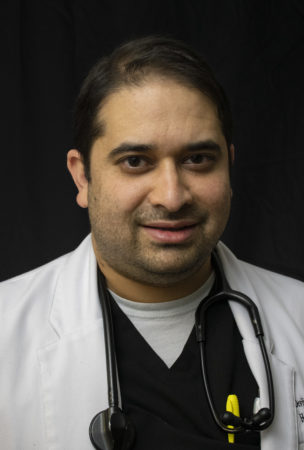 To read the full article, visit: https://casereports.bmj.com/content/14/3/e239781.full?ijkey=KCNlkQBsWbMgeuJ&keytype=ref