Nathan Littauer Hospital Celebrates Opening of Caroga Lake Primary Care
Nathan Littauer Hospital & Nursing Home is proud to announce the opening of the organization's new Caroga Lake Primary Care Center in Caroga, NY. The healthcare organization began the center's construction in late September 2020. Previously, Nathan Littauer Hospital leased a portion of the municipal building, owned by the Town of Caroga in 2005. Now as a standalone structure for the people of Caroga, the organization is proudly continuing its healthcare services in a new center. "We look forward to meeting new patients in the area," says Alison Townsend, Physician Assistant with Nathan Littauer. "We provide an invaluable service to the community members here, and I think our patients are really grateful for that."
The new Primary Care Center is approximately 1,350 square feet of space, and is next to Caroga's Town Hall, where the original primary care center was housed.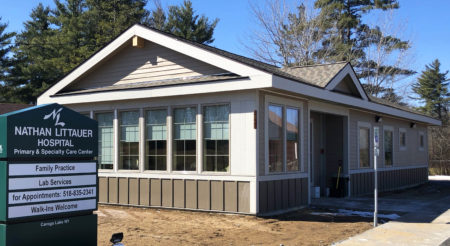 "It is exciting to work with Nathan Littauer Hospital & Nursing Home in our commitment to the community," said Supervisor of Town of Caroga Scott Horton. "This new Caroga Lake Primary Care Center is a boon, and it shows that the area of our town continues to grow. In turn, so is its need for great healthcare services."
The Caroga Lake Primary Care Center is now accepting new patients. To call and schedule an appointment, or to select a primary care provider, call: (518) 835-2341.
Nathan Littauer Hospital invites the members of its community, and the people of the Town of Caroga, to celebrate the Primary Care Center's opening June 24, 2021. From 5:30 – 7:30 p.m., Nathan Littauer will host a "drive-thru open house," where members of the public will get a glimpse of the new center, and receive a free gift, while supplies last!
XXX
About Nathan Littauer
Nathan Littauer Hospital and Nursing Home is a full-service, 74 bed acute care hospital with an 84 bed skilled nursing home. Since 1894, Nathan Littauer has provided safe, high-quality health and wellness services with a focus on securing appropriate new technologies for people residing in Upstate New York. Over the years, the hospital has expanded its services in order to offer health care that is comprehensive, accessible, and relevant to the needs of the communities they serve. More information can be found by visiting www.nlh.org.