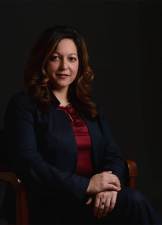 Littauer is proud to welcome Stephanie Fishel, RN, NE-BC, BS BA, as the Vice President of Patient Care Services and Chief Nursing Officer, a position recently vacated by the retired Regina Mulligan. Stephanie comes to Littauer from St. Peter's Hospital in Albany where she had worked as their operations manager for over five years. A registered nurse for 15 years, Stephanie has an additional degree in health promotion/disease prevention and has her nurse executive certification.
"It is an honor to follow Ginger Mulligan, a respected nurse, manager and a valued Littauer employee for 43 years," said Stephanie.
"I am thrilled to welcome Stephanie to our Littauer family. Her integrity as a nurse and professionalism parallel Littauer's values of superior patient care and satisfaction," said Littauer President and CEO Laurence E. Kelly.
"Quality patient care and supporting the health care providers who are committed to delivering superior care is my passion," said Stephanie.
Stephanie attended Temple University and completed her education at University of Connecticut. For four years she lived in Moscow, Idaho working at Gritman Medical Center. While at Gritman Medical, a critical access hospital in a rural area, she became a jack-of-all-trades. "I learned from nurse mentors in rural Idaho, from ICU to home care," said Stephanie. "I left there a better nurse."
Stephanie returned to the east coast and while working in Albany she developed a passion for operational management and process improvement.
"How do we create a culture of safety? With a professional, self-driven team who embraces creativity and understands that patient safety is a journey," said Stephanie.
After working in both small community hospital settings and large metropolitan hospitals, Stephanie is happy to be at Littauer. "I feel at home here, and I knew immediately Littauer was the right fit for me."
Stephanie's mantra is: "Treat others the way you would like to be treated yourself." You can plan on seeing more smiles with Stephanie Fishel leading the way.
Photo – Stephanie Fishel, Vice President of Patient Care and Chief Nursing Officer at Nathan Littauer Hospital & Nursing Home