Here's a report from News Channel 13 featuring Littauer's Lactation Consultant, Nancy Quinlan, RN, IBCLC, OSC: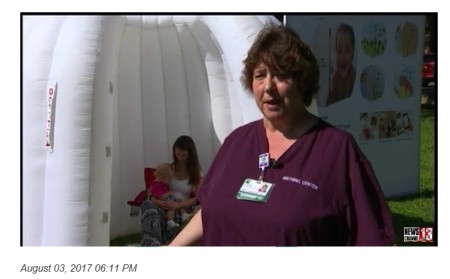 Portable pods provide comfort to breastfeeding moms
August 03, 2017 06:11 PM
A number of events have been held around the Capital Region to commemorate "World Breastfeeding Awareness Week," including at Nathan Littauer Hospital in Gloversville. A popular item at that event was the Mamava.
"Moms are meant to breast feed. Babies can breastfeed," pointed out Nancy Quinlan, an international board certified lactation consultant at Nathan Littauer Hospital.
She admits it's not always convenient to do so.
Enter the Mamava, which in Spanish means "moms on the go." These portable pods – lactation suites as the company calls them, that can be set up anywhere. They provide moms a clean, safe and private place to breast feed and also pump, which can often be a challenge.
"A way to pump in public and be comfortable and not have to be in your car, where it's steaming hot or anything like that," noted Melaine Neelis, a mom.
"Because with a pump it's hard to hide everything. Because you kind of have to have your breast exposed, you have to set up the pump," acknowledged Quinlan.
Lack of privacy to pump and unsanitary sites designated for breastfeeding work against efforts to increase breastfeeding. The research is clear, not only is breastfeeding economical for families, it improves the health of both baby and mom. In addition, for working moms, having a place to breastfeed and/or pump is a win for all.
"There's data that supports that they go back to work and they're happier going back to work 'cause they have a place to go," pointed out Lisa Martone with Mamava.
That's part of the Mamava appeal. There are 285 Mamavas in the United States. Nathan Littauer Hospital is hoping to encourage others to consider using them to support breastfeeding moms.
Inflatable units can be rented for $150 a day for specific events like concerts and fairs.
There are also standalone units of varying size that organizations can purchase to accommodate staff or customers.
Bottom line is to normalize breastfeeding and make it more accessible