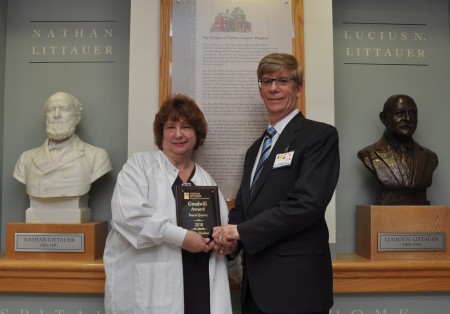 GLOVERSVILLE, NEW YORK (February 2, 2017) – Nathan Littauer Hospital & Nursing Home honored Nancy Quinlan, RN, IBCLC OSC, with the 2016 fourth-quarter Goodwill Award. Quinlan is a lactation consultant with the Nathan Littauer Hospital Birthing Center. She was presented the award by Littauer President and CEO, Laurence E. Kelly before a gathering of her peers.
"Nancy has made a real difference in the short time she has been at Littauer," said Kelly. "Whoever you are, you will receive the best Nancy has to offer."
Quinlan's outstanding compassion has been celebrated with hundreds of new mothers.
"I am so honored. I love what I do. I feel like I make a difference, and like everyone is an extension of my family," said Quinlan. "I'm here to stay."
Recipients for the award are nominated by NLH employees, providers or patients and submitted to the Goodwill Committee. They are selected in a blind format.
Quinlan received a plaque and a check along with her special honor.
About Nathan Littauer Hospital & Nursing Home
Nathan Littauer Hospital and Family of Health Services serves Fulton, Montgomery, and Hamilton counties in upstate New York with a full-service, 74-bed acute care hospital, nine primary care centers, a nursing home and a community education center. The hospital was founded in 1894 and has 1,000 employees. Littauer's medical staff provides well over 100,000 patient encounters each year. For more information, please visit www.nlh.org.