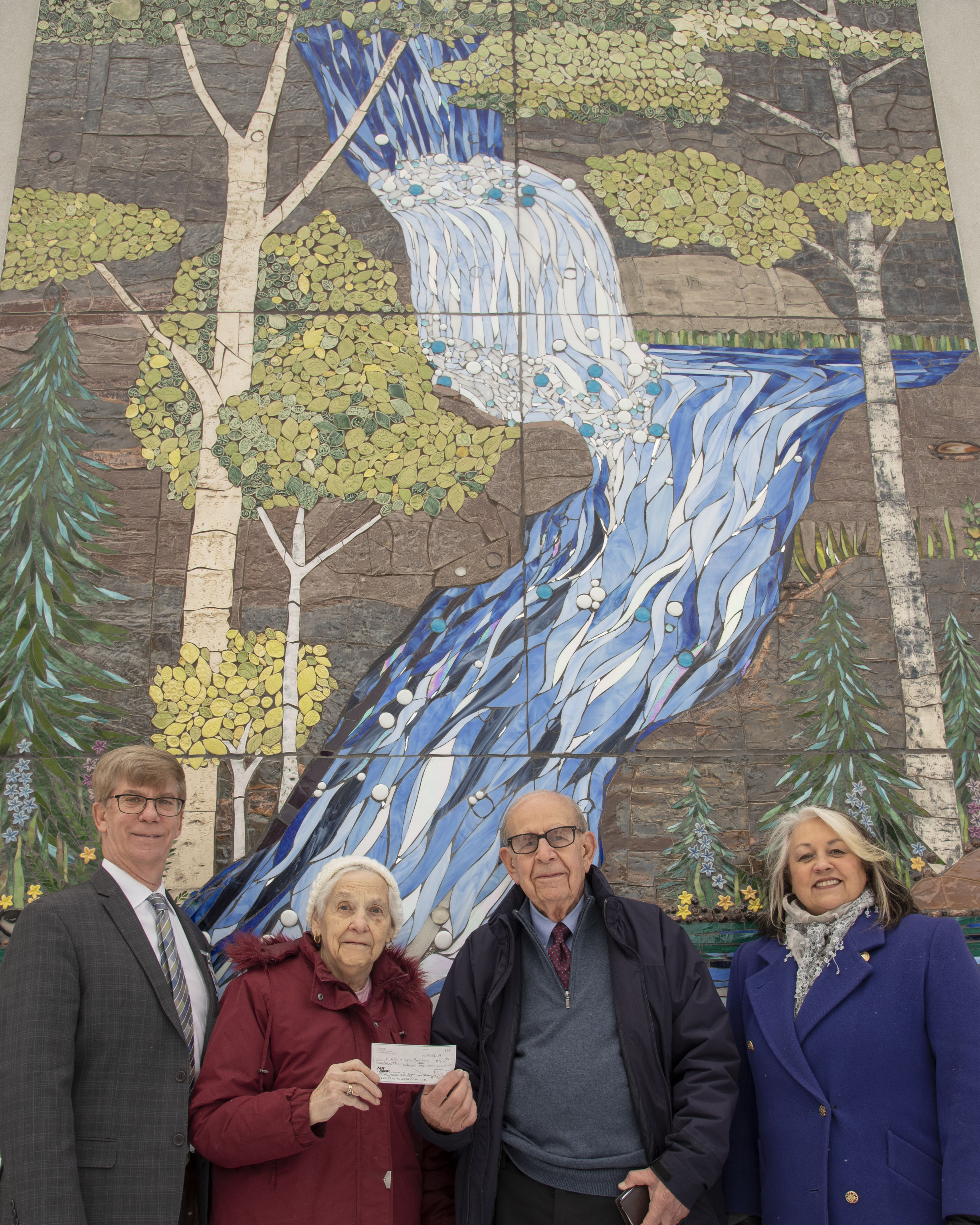 GLOVERSVILLE, NY – Recently, Mr. Joseph Rossi made a generous donation to Nathan Littauer's Auxiliary, a volunteer service within Nathan Littauer Hospital & Nursing Home. Mr. Rossi made the sole donation of $17,000 funding a large format art installation. The tiled, mosaic waterfall mural was revealed in Littauer's Reflection Garden this past August. The mural is a tribute to Mr. Rossi's wife, JoAnn Rossi, and other loved ones who have passed. Jo Ann worked with Nathan Littauer's Auxiliary for 12 years.
The mural was created by artists Tammy Merendo, Linda Biggers, and Susan Ruscitto. It was also a collaborative effort of numerous Littauer employees and volunteers. The mosaic was not only created to represent our spirituality and humanity, but it was made to honor loved ones who have passed.
"It is made of stained glass, agate, clay, and Love," says Sue McNeil, Director of Volunteer Services. "Jo Ann loved working in our Extended Care Facility. She would visit each and every resident, if time allowed."
"Art is most needed where you don't expect to find it," says Cheryl McGrattan, Vice President of Marketing and Communications with Littauer. "A hospital is a place where joy and sorrow meet all too often. The memories of those passed will continue to live-on through the mural."
To honor Mr. Rossi's generous donation, Nathan Littauer's Auxiliary purchased a plaque to commemorate Jo Ann.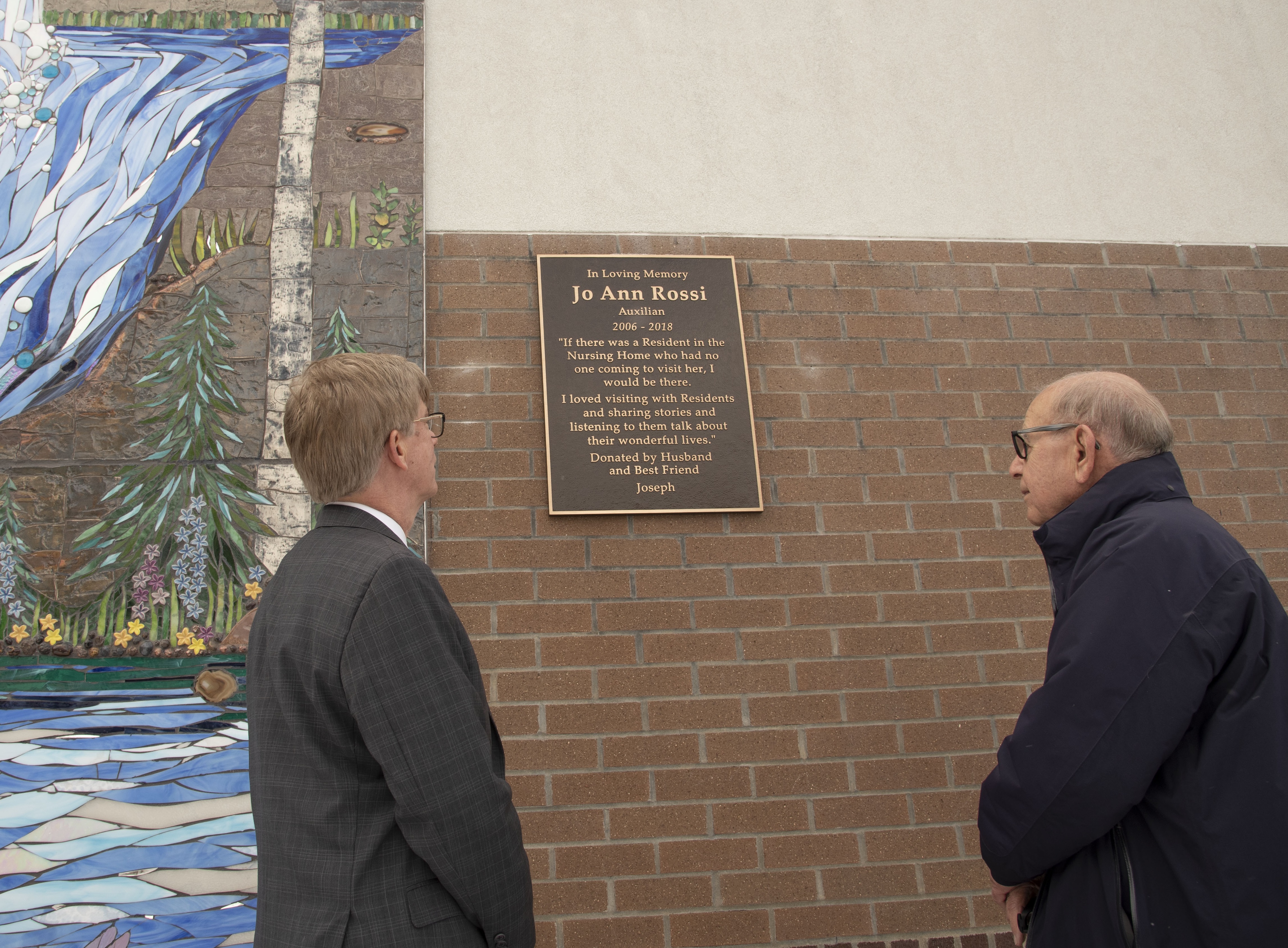 "Being an Auxiliary member runs in the family," says Mr. Rossi. "My mother was an Auxilian with Littauer for over 20 years. So, my wife and I found it very fitting to be involved with the auxiliary."
Mr. Rossi wants people to know about Jo Ann. He explains, "She was an extremely caring person and would always come and visit with the residents in the Extended Care Facility." It's very fitting for the mural and plaque to have a place in the Reflection Garden, where they would share time together.
President and CEO of Littauer, Laurence E. Kelly, Director of Volunteer Services with Littauer, Sue McNeil, President of Littauer's Auxiliary, Norma Cozzolino, and Mr. Rossi had gathered November 12, to pay homage to Jo Ann.
The plaque reads:
"In Loving Memory of Jo Ann Rossi –
'If there was a resident in the Nursing Home who had no one coming to visit them, I would be there. I loved visiting with the residents, sharing stories, and listening to them talk about their wonderful lives.'
Donated by Husband and Best Friend – Joseph"
Mr. Rossi reflects on the meaningfulness of the plaque and mural:
"Thank you to Nathan Littauer Hospital & Nursing Home and The Auxiliary for all the good deeds they perform each and every day. The Auxilians are a special group of people that are dedicated to making a difference in the lives of others. It is an honor to support this outstanding organization by donating the funding for the beautiful mosaic waterfall mural. It is in memory of my wife, Jo Ann, who was one of those dedicated Auxilians and in memory of other loved ones."
###
About Nathan Littauer
Nathan Littauer Hospital and Nursing Home is a full-service, 74 bed acute care hospital with an 84 bed skilled nursing home. Since 1894, Nathan Littauer has provided safe, high-quality health and wellness services with a focus on securing appropriate new technologies for people residing in Upstate New York. Over the years, the hospital has expanded its services in order to offer health care that is comprehensive, accessible, and relevant to the needs of the communities they serve. More information can be found by visiting www.nlh.org.