GLOVERSVILLE, NY – Nathan Littauer Hospital & Nursing Home released their annual report to the community in June. The report was inspired by an earlier question for a Littauer employee newsletter: "Why did you choose a career in health care?"
"Instantly, we knew we had to tell their heartwarming stories to our patients,"says Littauer Vice President of Marketing and Communications, Cheryl McGrattan. "We were overwhelmed with what our team had to say and they became the basis for 'The Spark.' The report is a means to share their stories, along with the organization's accomplishments for members of the community to enjoy."
Within the healthcare organization's annual report for 2019, are a multitude of employee and patient stories. Littauer Marketing Specialist, Sara Schrum, says "It's a report for the community by the community."The result is "The Spark" featuring 40 pages of Nathan Littauer's accomplishments as the organization cares for the community.
"As your local hospital for 126 years, we wanted to show the members of our community why we do what we do. The Spark does just that." McGrattan adds.
"The Spark" not only offers information of the hospital's past, but also provides a sense of where Nathan Littauer's Hospital & Nursing Home is heading. While many hospitals face volatile economic challenges, the report describes how Littauer has managed to stay on track despite obstacles. What does that mean? Better healthcare service for the patients of Nathan Littauer Hospital.
The Spark" also includes a message from the healthcare organization's President and Chief Executive Officer, Laurence E. Kelly, as he prepares to retire with nearly 20 years of distinct leadership. The report also includes: important organizational milestones over the past ten years, new medical providers, financial statistics, award recipients, and employees of recognition.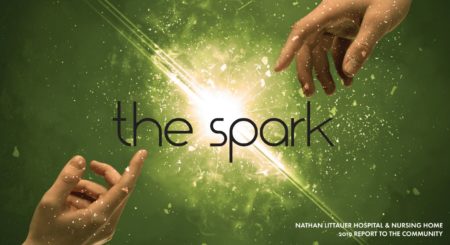 President and CEO of Nathan Littauer, Laurence E. Kelly, explains:
"I will leave Littauer with a great sense of pride, knowing that what we've accomplished – and will accomplish together is meaningful and will matter to this community for generations to come. You can be assured that we'll remain committed to the same independent 'Spark' that's kept us successful and in service to you since 1894."
The report is an organic collaboration from the team at Littauer. From volunteers, nurses, and providers; to the administrative level – every employee, patient, and member of the community has made this report possible.
"The Spark" has been mailed to many members of the community for them to read at their own leisure. The report has also been made available to read online. You may read "The Spark" by visiting:
https://issuu.com/home/published/nlh-annual_report-rev2-color_adj-cmyk-indicia