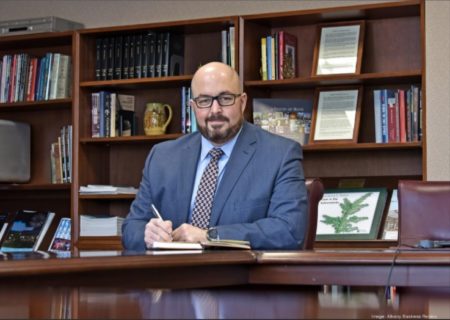 A recent interview with Nathan Littauer Hospital & Nursing Home President and CEO, Sean Fadale and the Albany Business Review:

With a spot on his college football team, Sean Fadale wasn't looking far beyond just playing the game and attending classes. As for a career, he was unsure. But when he injured his shoulder — which meant no more football — and required surgery and physical therapy, his eyes were opened to a career path. Fadale became a physical therapist, soon after making his way to the administrative side and eventually becoming CEO of Community Memorial Hospital in Hamilton, New York. After eight years in that role, Fadale in October became the new president and CEO of Nathan Littauer Hospital & Nursing Home in Fulton County.
Q: "How did you transition from physical therapist to the admin side?" 
A: I graduated, and I got to go back to my hometown and work in the hospital I was born in, able to work as a clinician and rise up through the ranks to a leadership level. I realized as much as I love patient care, I found that on the leadership side I could really affect a broader scope of patients and fellow co-workers by how I lead them. I went back and got my MBA, and that really started my journey. At that point in time, I realized eventually I wanted to be in the CEO seat in health care.
Q: "What's a major lesson you learned during the eight years in your first CEO role?" 
A: The principles of leadership, from my perspective, are translational. They're universal. People want to be valued. They want to be heard. They want to be empowered to make a difference on a day-to-day basis. Those are things that I feel can translate from position to position and from organization to organization. One thing I think that I really realized as a new CEO of Community Memorial Hospital is relationships matter. And this goes beyond the organization to the community, to your local and regional politicians, to your board of directors. I entered this organization during COVID, so the connection with the community and the region has all been virtual. So I'm looking forward to making those personal connections that are going to be important for Nathan Littauer and for myself.
Q: "What was it like starting a new CEO role at a hospital during the pandemic?"
A: I have been absolutely impressed with what Nathan Littauer has been able to do in response to COVID, and what our staff has been able to absorb and execute, what our leadership team had in place and was able to continue to move forward. What I'm very much looking forward to is our recovery and how we're going to come out of COVID. As we're seeing infection rates coming down, it is now time for us to restart the engines.
Q: "Nathan Littauer has had three new construction projects during the pandemic to help fill a need for physicians in the area. How common is it for a rural hospital to have that role?" 
A: This is especially a phenomenon in a rural area, but you're seeing it more in urban areas, as well, where the hospitals in the regions become the cornerstone for primary care. It is very challenging for doctors and providers to establish their own practices or hang their own shingles. So for rural areas, you have really kind of a twofold benefit that rural organizations provide. One, they provide access to acute, emergent and primary care. Two, they are one of the main economic engines in regional areas. We are one of the major employers in Fulton County. We have a workforce of over 1,000 people. For economic growth, people look at regions for a number of things. We feel that for where we are in rural Fulton County, we make an enormous difference, not just on the health care side, but on the economic side.
Q: "What would you outline as your long-term goals for Nathan Littauer?" 
A: One is that we have a very strong and healthy workforce. Another is that we become the provider of choice for the region. And we want to continue to grow. That growth could be organic, or it could be through partnerships. We are looking down the road and not shutting any doors as far as our opportunity to work with others as an equal partner as we look to maintain our independence going forward.
Q: "Why have you chosen a career lately in rural areas rather than urban?" 
A: There's a tremendous amount of satisfaction for me in not having multiple layers between myself and the patients or myself and our frontline workers. I feel it's very important to be connected to our patients, to be connected to our frontline staff. My office is right outside our ICU here at the organization, and every day I round through our clinical areas.

Interview has been edited and condensed by Albany Business Review Reporter, Justin Dawes
---
Sean Fadale
Title: President and CEO
Organization: Nathan Littauer Hospital & Nursing Home
Age: 52
Born/grew up: Warren, Pennsylvania
Resides: Northville
Education: MBA and master's degree in physical therapy, Gannon University; bachelor's degree in sports medicine, Mercyhurst University
Family: Wife, Stephanie Fadale; sons, JT and Colin
Hobbies: Fadale's family enjoys watching his son play football for Ithaca College. He also enjoys hiking and fishing.