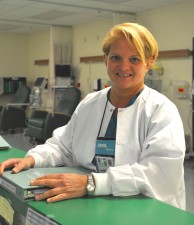 GLOVERSVILLE – Nathan Littauer Hospital is proud to announce Polly Peck, NP has joined the Gastroenterology Specialists of Littauer. Peck will be assisting Dr. Luz Alvarez and her practice located at Littauer's Gastroenterology Primary/Specialty Center, 135 County Highway 128, Johnstown, (also known as 434 So. Kingsboro Ave. Extension next to Cataract Care Center and Mohawk Valley Orthopedics).
"I am very fortunate to have been chosen to work with such an amazing, compassionate, patient-centered team," said Peck. "It is great to be a part of Littauer's growth and the offering of such a vital resources to our community."
Peck is in her tenth year working for Littauer. She is now seeing patients, and assisting with gastroscopy and colonoscopy procedures.
An entirely new gastroenterology office was developed at Litttauer's Johnstown Surgery Center on So. Kingsboro Ave. The 1458 square foot office houses three exam rooms, one procedure room, two offices, two restrooms, and a new reception area. The office is adjacent to the completely refurbished Endoscopy Center with a reception area, three operating rooms; sterilization equipment, a multiple patient recovery room, exam rooms, and the most complete state-of-the art technology and equipment for all procedures.
"One of the most rewarding aspects of working with Dr. Alvarez is experiencing first-hand her patient-centered philosophy. This career move reinforces the reasons why I went into medicine in the first place," added Peck.
To schedule a consultation or appointment with Polly Peck or the Gastroenterology Specialists of Littauer, please call (518) 752-5275.