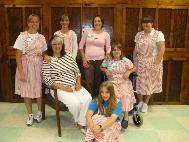 Our volunteers are paid in six figures– S.M.I.L.E.S.
Nathan Littauer Hospital and Nursing Home Auxiliary has been supporting health care in our community since 1894. Our 300-plus members support countless operations throughout Nathan Littauer's facilities, including volunteering at the Nursing Home and leading tours around the Hospital. Since 1980, our volunteers helped to raise over $600,000 and donate 16,000 hours in a typical year.
To become a volunteer or to join our Auxiliary, call Susan McNeil, Director of Volunteer Services, at (518) 773-5408 or e-mail semcneil@nlh.org.