GLOVERSVILLE, NY – Sunday, February 9, Nathan Littauer Hospital & Nursing Home received a generous donation from the Holy Trinity Parish, a local Catholic church in Johnstown, NY. The donation was made possible by the church's Faith Formation Program.

"We are so proud of the children for all their efforts," says Cheryl Walton, member of Holy Trinity Church and Director of the children's Faith Formation Program. "They were so excited they had the opportunity to make a difference in their community."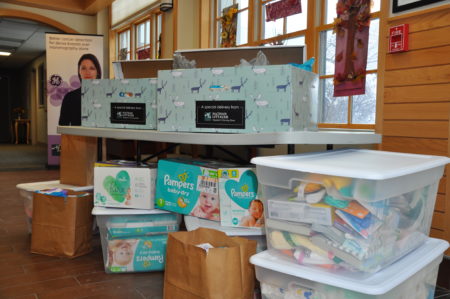 The children's Faith Formation class is part of the church's Sunday school program. The Faith Formation is comprised of middle-school children from the area including the: Johnstown, Broadalbin, Gloversville, and Fonda-Fultonville school districts.

At the beginning of the school year, the children brainstormed ideas for possible community service projects. The students decided they wanted to help local mothers and newborns by donating child health and baby care items to Nathan Littauer Hospital's Birthing Center.

Once they established their plan, the children distributed a flyer in their communities asking for donations of several needed newborn items. They received donations from fellow church members, school staff, and peers. Some of the children even made their own donations to further the cause.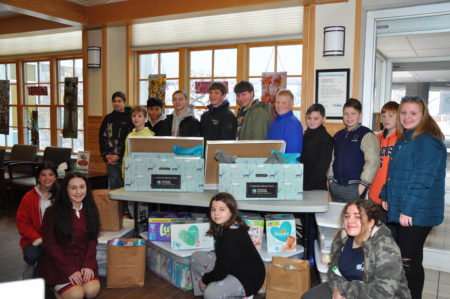 "It's amazing how much of a collaborative effort went into making this happen," adds Walton. "They worked so hard."

Collecting donations for several weeks, the church managed to obtain over $2,000 in baby care products. The donations were then personally delivered by the children, were they were received by Littauer's Birthing Center staff.

"I am overwhelmed with joy," says Wendy Bowie, Maternal Child Health, RN with Littauer. "Many mothers don't have access to these baby care products. With their hard work, they made the impossible – possible. A wonderful thing has been done for our future mothers and future babies."
###
About Nathan Littauer
Nathan Littauer Hospital and Nursing Home is a full-service, 74 bed acute care hospital with an 84 bed skilled nursing home. Since 1894, Nathan Littauer has provided safe, high-quality health and wellness services with a focus on securing appropriate new technologies for people residing in Upstate New York. Over the years, the hospital has expanded its services in order to offer health care that is comprehensive, accessible, and relevant to the needs of the communities they serve. More information can be found by visiting www.nlh.org.