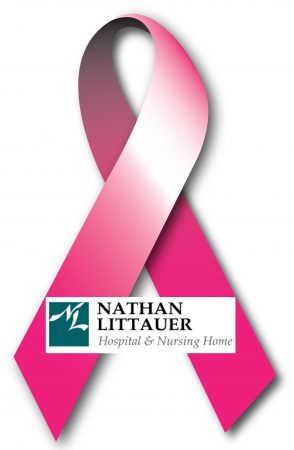 GLOVERSVILLE, NY – This October, Nathan Littauer Hospital & Nursing Home is focused on increasing awareness for breast cancer prevention. According to Breastcancer.org, breast cancer is one of the most common types of cancer in women. Roughly one in eight women born in the United States will develop breast cancer in their lives. Studies have also shown that women with dense breasts are more likely to have or develop cancer. However, most women can survive breast cancer if it's found and treated early.
In recognition of Breast Cancer Awareness Month, Littauer is creating a marketing campaign to move beyond mammogram education and to include conversation about breast density.
"With the recent installation of Invenia ABUS 2.0™ at Littauer, it is much easier to detect breast cancer in addition with a regular mammogram," says Dwayne Eberle, Director of Diagnostic Imaging. "The ABUS 2.0™ has improved breast cancer detection by an estimated 36 percent. I am thrilled that we can now offer ABUS, a leading edge technology, to women with dense breasts. This simple 15 minute procedure will save lives in our community."
"ABUS Ultrasound for dense breasts is our newest example of supporting our patients," says Priscilla. "With the capability to further test women with dense breasts for abnormalities which can hide in regular Mammography, this can and will save lives. Everyone who has their mammogram with Littauer will receive a special gift from our Diagnostic Imaging department, too. We want to show women that we are here for them and let them know that having their mammograms is vitally important."
"Some organizations and hospitals display pink ribbons for Breast Cancer Awareness Month," says Cheryl McGrattan, Vice President of Marketing and Communications with Littauer. "We build whole new centers and bring in the best technology to prevent breast cancer. For us at Littauer, we think pink all year long."
Talk to your doctor about breast density, especially if you have a history of breast or ovarian cancer. Your doctor can provide more information about mammograms. For more information about the new Invenia ABUS 2.0, please call Priscilla Person, Littauer's Diagnostic Imaging Office Coordinator, at: (518) 773-5215 or visit: https://www.gehealthcare.com/products/ultrasound/abus-breast-imaging/invenia-abus
XXX
About Nathan Littauer
Nathan Littauer Hospital and Nursing Home is a full-service, 74 bed acute care hospital with an 84 bed skilled nursing home. Since 1894, Nathan Littauer has provided safe, high-quality health and wellness services with a focus on securing appropriate new technologies for people residing in Upstate New York. Over the years, the hospital has expanded its services in order to offer health care that is comprehensive, accessible, and relevant to the needs of the communities they serve. More information can be found by visiting www.nlh.org.