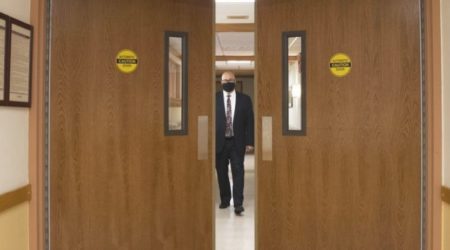 Starting this October, Sean Fadale will take his seat in the CEO's office at Nathan Littauer Hospital & Nursing Home — and be just about 15 feet away from the intensive care unit.
That proximity is a physical sign of one of the ways rural hospitals can be different from the sprawling the medical complexes in more urban areas.
Fadale's career to this point has included several stops at organizations similar to Nathan Littauer, a 74-bed acute care hospital and 84-bed skilled nursing home in Gloversville. Most recently, he was president and CEO of Community Memorial Hospital in Hamilton.
Justin Dawes, a reporter with The Albany Business Review, spoke with Fadale about the role of rural hospitals and some of his main priorities during this time.
Q: Why have you dedicated so much time to smaller, rural hospitals?

A: I've spent the bulk of my career in rural health care. It is something that I have a great affinity for. There's an opportunity at small organizations to be nimble, to be able to change course and trim our sails as necessary. The other thing I enjoy about it is that as a leader of the organization, I'm close to the employees and I'm close to the patients.
Health care is a tough business, and that's the reality of it — health care is a business. Knowing that each year we're going to be reimbursed a little bit less for what we do and everything's going to cost us a little bit more, we have to make sure that we are making the best decisions with the resources we have and still produce the best outcomes for our patients, at a low cost.
Q: How important would you say the role of a rural hospital is to the community it serves?

A: Without the hospital and our primary care centers, there may be people without local access to care. I think something that is critically important for rural health care organizations is that we're a major employer in the area. So we are an economic engine for the community because we are a primary employer.
Q: The White House recently issued an executive order on "improving rural health and telehealth access." What are your initial thoughts on that and on telehealth in general?

A: There are many organizations that need the legislative help, that need funding to be viable organizations for the future because COVID-19 has really wreaked havoc on organizations across New York state. So any legislative support from the New York state or federal governments will be usually beneficial.
Telemedicine is something that's going to be very important for organizations across the country, especially for rural health care. Telemedicine is another access point for our patients. It is absolutely something we have to continue to explore. When you look at rural health care, one of the things that you quickly realize is that transportation becomes an enormous issue.
Q: What do you think your first move will be as Nathan Littauer continues to navigate the pandemic?

A: For any organization, we have to make sure we have the best policies and procedures in place to keep our staff and our patients healthy; that we have enough PPE to handle a potential second wave or third wave; and that we are ready to tackle flu season when it comes. There may be things we need to figure out, but from everything that I've seen, they're doing a great job here caring for their patients and caring for their staff.
Click here to read Littauer's announcement of Sean Fadale as the organization's new President and CEO.